Over the years, our camp in Black Rock City has grown into a vibrant community that spans an entire city block. Our creativity is on full display with our famous carrot top and extra tall dayglo flag, which serves as a beacon for those seeking us out on the playa. Our courtyard is a spacious haven adorned with mesmerizing blacklight art and a captivating montage of Burning Man art from the past decade. The centerpiece of our courtyard is our interactive soft sculpture of hanging mylar ribbons, where people can walk or bike through and immerse themselves in the playful atmosphere. Bike racks dot the perimeter of the yard.
As the night falls, we strike flame in a cauldron that serves as a gathering spot for strangers arriving out of the night, party goers and C&J campers alike — leveled up last year by a new Victorian-style lounge surrounding the fire. The Pink Gym at the front of the courtyard welcomes those desiring to break a sweat, simply stretch their limbs, or celebrate others who do – the hue of our gym's walls and equipment glows in the desert sun, silently begging passersby to step inside and explore physique more queerly. Towards the back of the courtyard lies the Afterglow, a different kind of haven – shrouded by dayglo flags, beckoning with promises of unhindered self expression and interpersonal exploration, this 24/7 space is an open invitation to all seeking respite from the boisterous festivities of the playa takingtime to indulge their wildest desires...or simply observe + unwind, at will. This is a safe space held for queer immediacy, self-definition and respect (note that at times the Afterglow hosts DJed events as well).

In this vibrant and eclectic camp, the Pink Gym and the Afterglow tent stand as symbols of the myriad experiences and possibilities that await BRC citizens.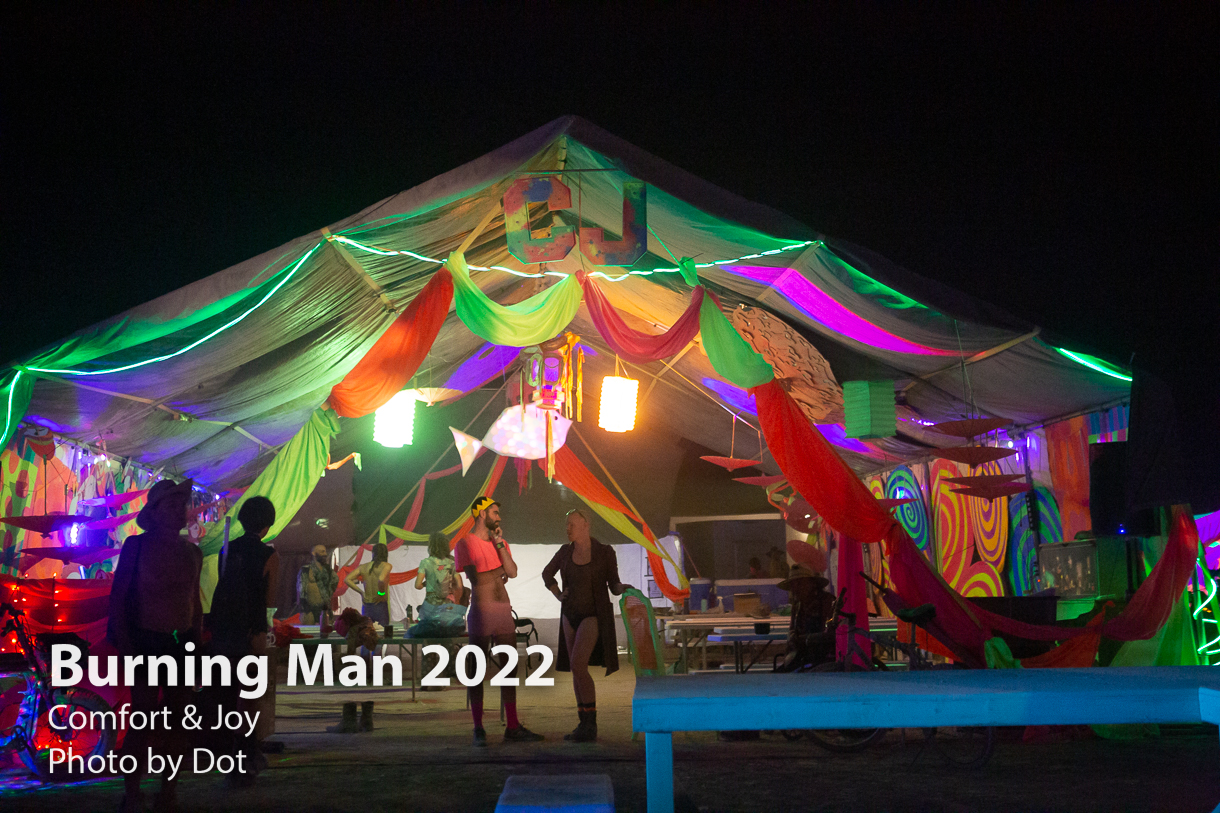 The Queer Temple is a majestic hexagonal shade structure that stands in the center of our camp, beckoning those in search of solitude (meditation, divination, relaxation or contemplation) and creative expression (classes, performances and dance sessions). Illuminated by striking blacklight art, it is a sight to behold, a feast for the senses. Nestled beside it is the Cuddle Dome, a geodesic haven draped in rich fabrics, a cool respite for rest and rejuvenation.