Velvet (SF Queer Nightlife Collaboration)
Saturday, May 6, 2023 - 9:00pm
Join us for a night unlike any other, with all your favorite Queerborhood camps coming together...right here in San Francisco!
 
This take over will include every last inch of The Midway, including patios and more, for VELVET, a massive one-night-only extravaganza on May 6th, 2023. It's going to be an immersive 5-stage cornucopia of sound with experiences awaiting you around every corner. We can't wait to show you the tableau we're planning!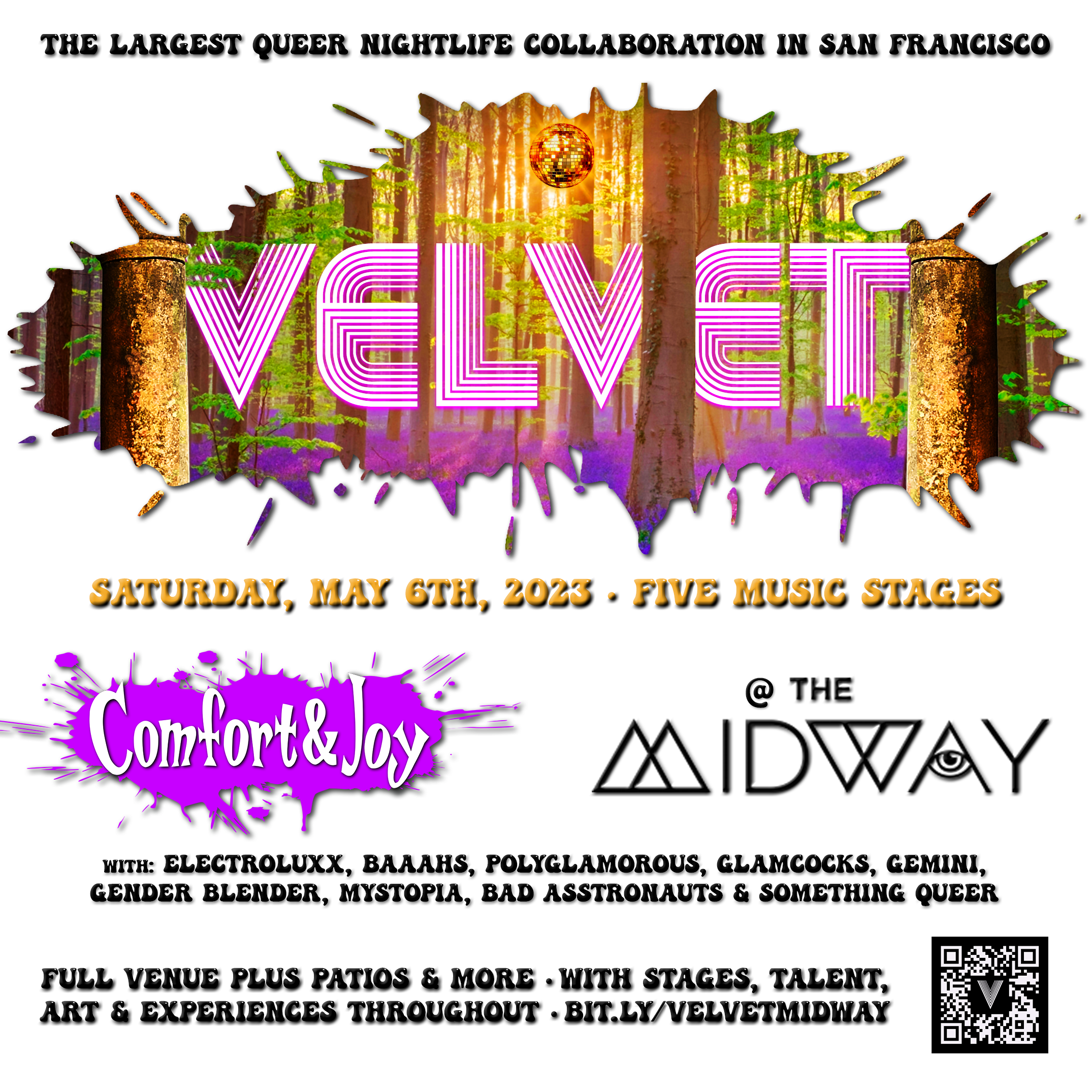 Comfort & Joy is busy building elements for a lush art garden in the main room @ the Midway, with Creative Director Chickpea manifesting four vine-laden columns towering over the central dance area with a woven canopy of plants between them, bedazzled with pendant velveteen flowers in full gay-glo bloom.
Each corner of the main room will be transformed by a Resident Artist working in a related garden glen: Voronoi Blue is hard at work on a light-art laced ladyslipper lounge for the Snuggle Jungle, while Flamingo will whisk you away to a mirrorball Cloud Forest parallel universe for a moment or a lifetime! Gerardo Gama's overgrown Lush Forest is sure to entice those enamored of evergreen ... while Ray Oliver's Lavender Cavern beckons with liminal intrigue and an otherworldly twinkle.
In addition, the hallway outside of to the main room, as well as the Main Patio beyond it will become a journey to the Afterlife by Blitzy, with additional elements on the Side Patio to support Miso Experience, Tea Service and Fruit Flights all included with your ticket.